5 Inspirational Space Themed Nurseries
For a nursery theme that's out of this world, space is a versatile and much-loved motif that could be just the thing for your new arrival. Whether you want to go all out or simply add a few extraterrestrial touches, there are plenty of decor options out there that will help you achieve the look you're after. Here are 5 amazing space-themed nurseries to give you some inspiration.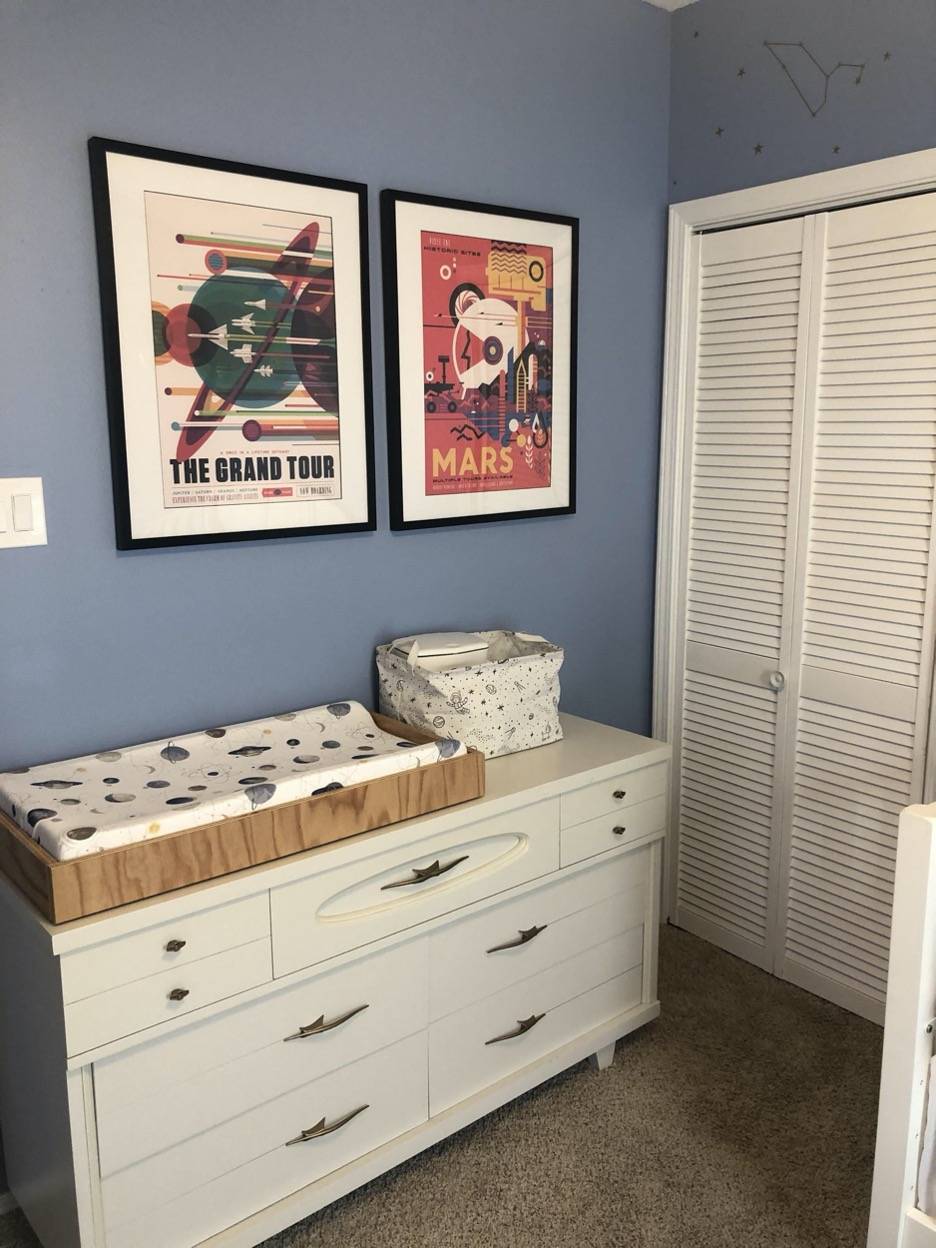 This space-inspired nursery put together by Reddit user KansasCity12 shows you only need a few key pieces to create an effective theme. Gold constellation wall decals transform plain paint into an accent wall, while space themed decor like a rocket basket and planet mobile add sweet but subtle touches that keep practicality in mind. Both stylish and affordable, this new Mum sourced many of the items second hand and printed the vintage-style travel posters from NASA for free. (Source: Reddit)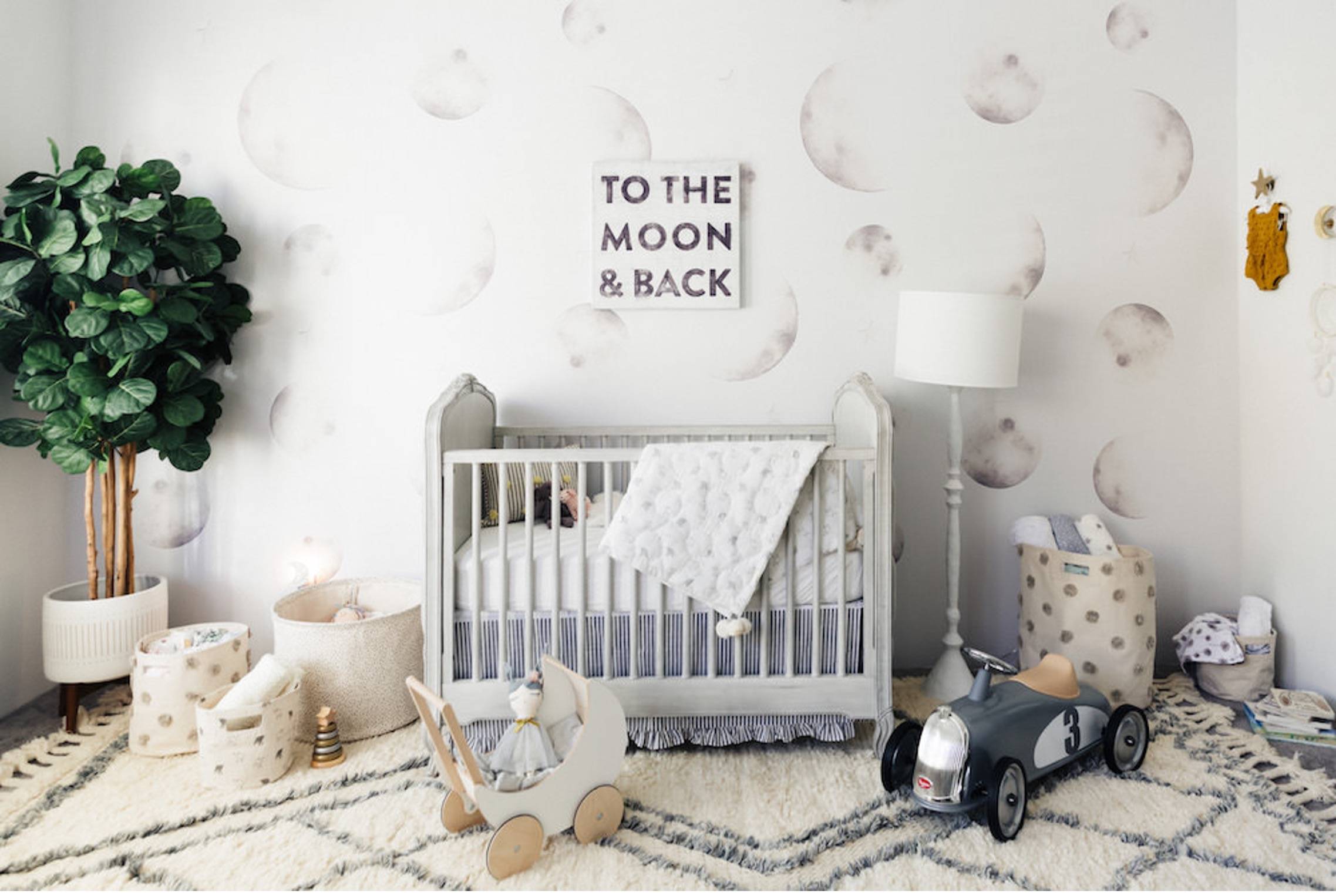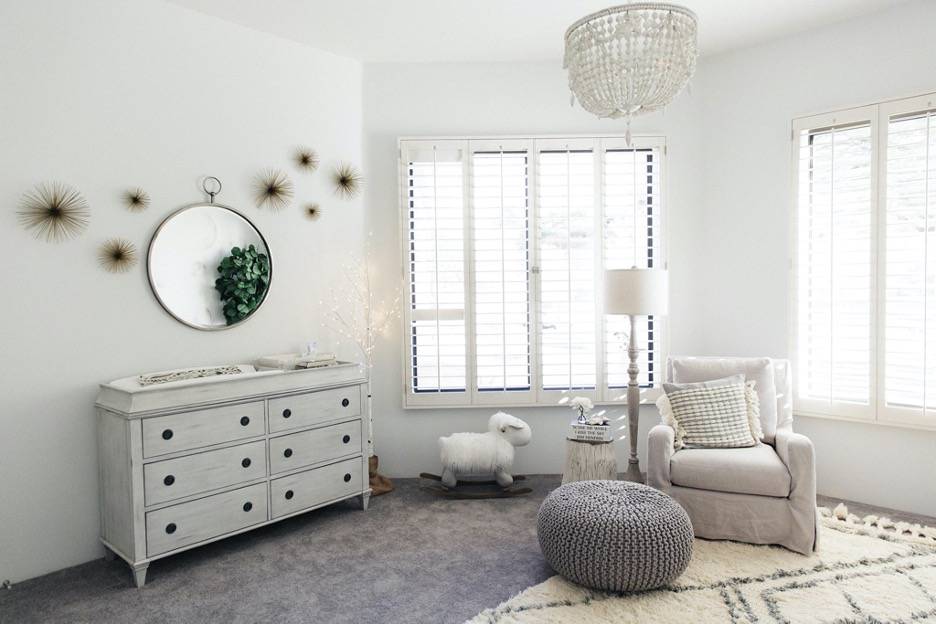 Putting a neutral spin on the space theme, Caitlin Lindquist of Dash of Darling put together this celestial nursery with her daughter, Luna, in mind. Subtle elements like the star wall sculptures and custom-made moon wallpaper give the nursery a dreamy feel that's perfectly complemented by the light, airy colour palette. Taking pride of place above the cot, a 'To The Moon And Back' print ties the whole look together. (Source: The Dash of Darling)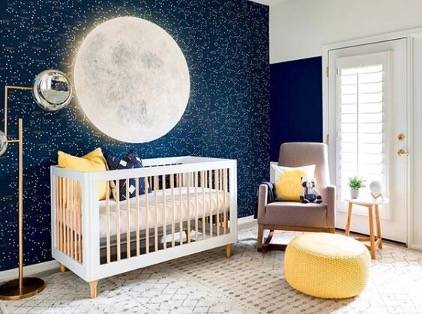 Jo Glick of J + J Design Group designed this striking space-themed nursery, complete with a show-stealing hand painted moon that Jo made and backlit herself. Pops of buttery yellow help bring some vibrancy to the room and create the perfect contrast to the deep blue wall, while natural wood accents ensure a warm and cosy atmosphere. (Source: Instagram)
Blogger Melissa created this space-themed nursery with a vintage edge, designed to grow with her little boy Jacob. The combination of orange, blue and green makes for a warm and fun feel, lightened up by the white of the cot, curtain and other items of furniture. The wallpaper is a great example of how, with careful styling, you can adapt other elements that don't necessarily fit your theme. (Source: This Elementary Life)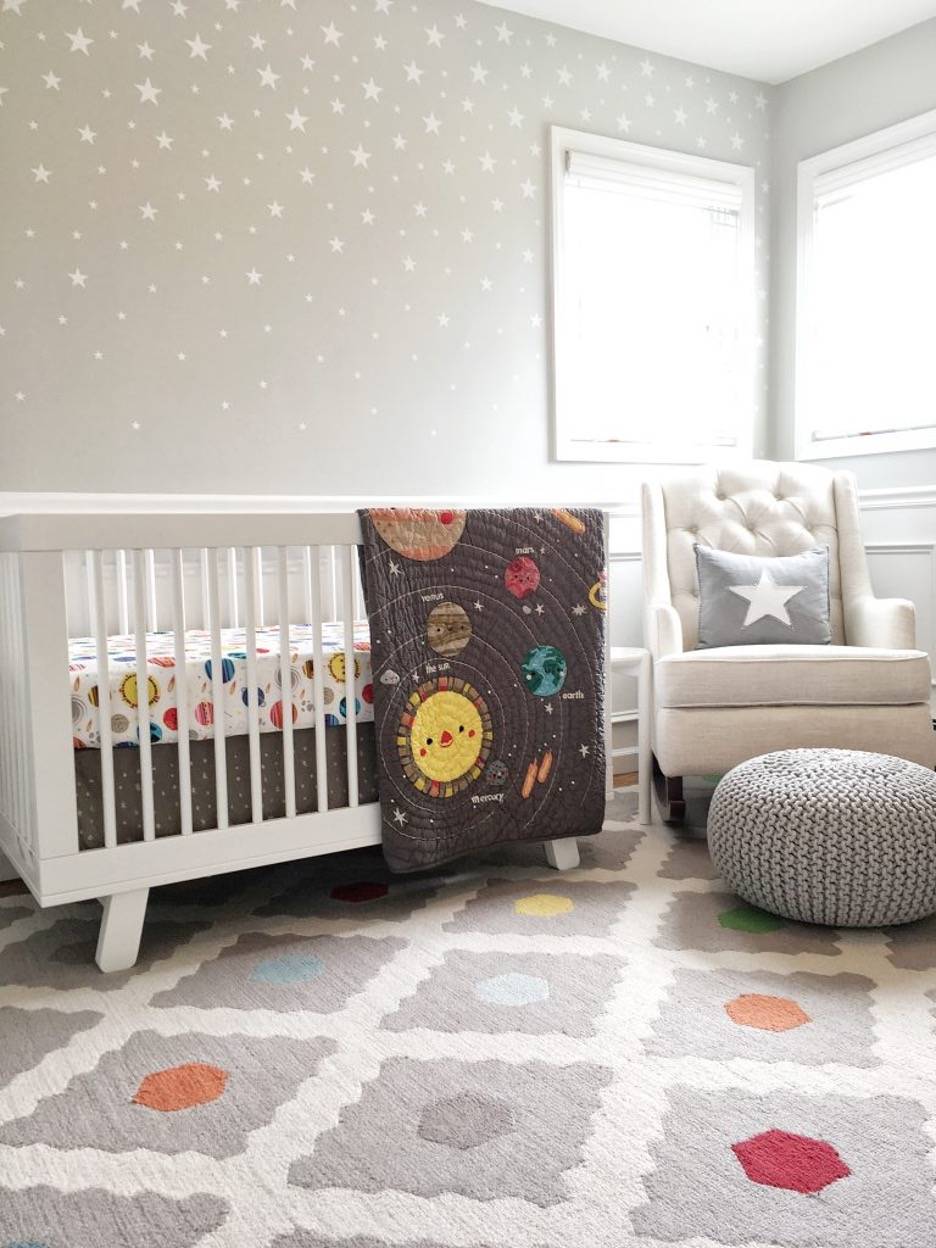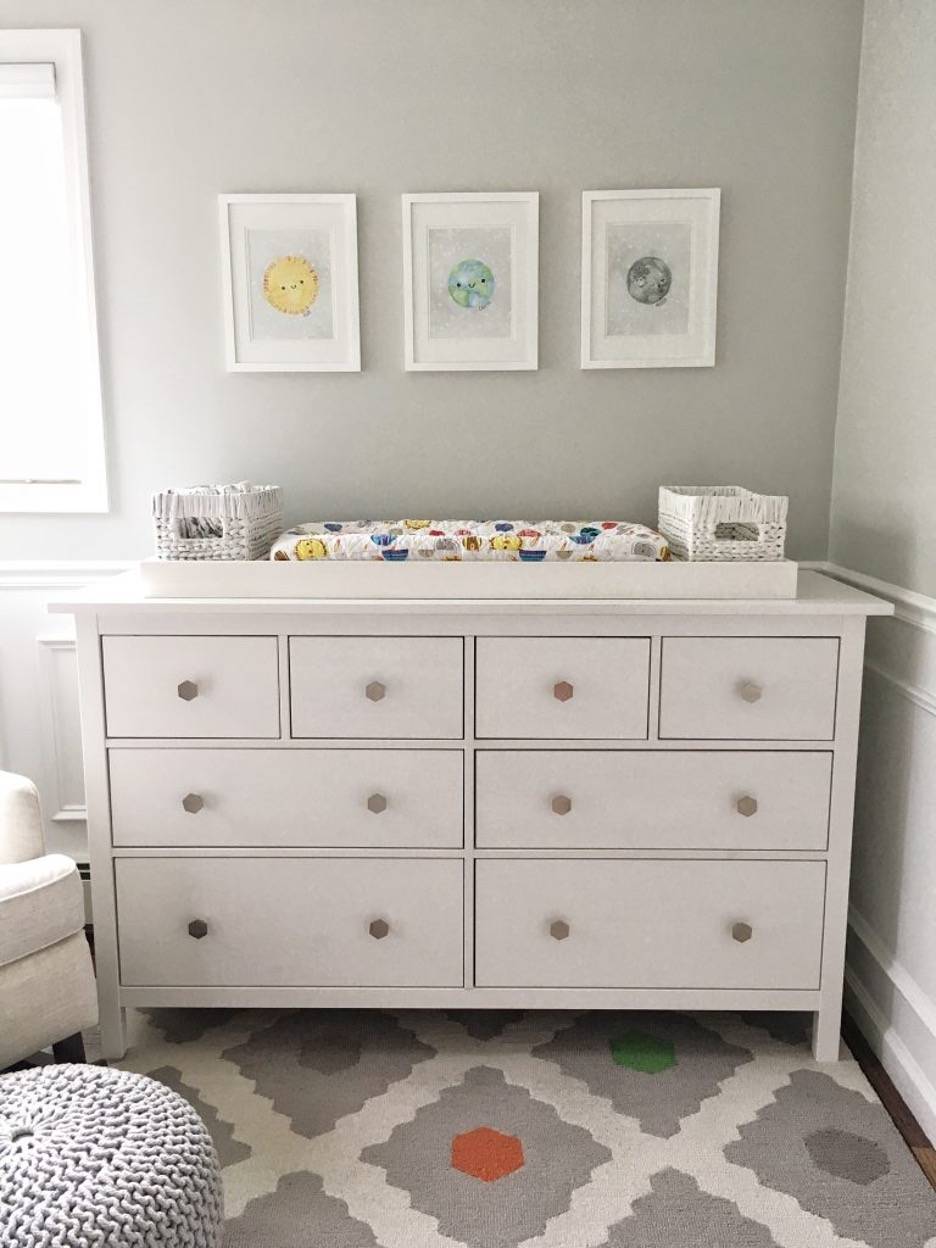 Combining cool greys with pops of colour makes for a sweet and soothing space-themed nursery. Put together by blogger and designer Alicia, the look was inspired by the adorable outer space bedding set that provided direction for the entire room. Tied together with Alicia's own watercolour art and an area rug with coordinating colours, it's an ideal gender neutral nursery that offers a subtle take on the space theme. (Source: Pink Pineapple)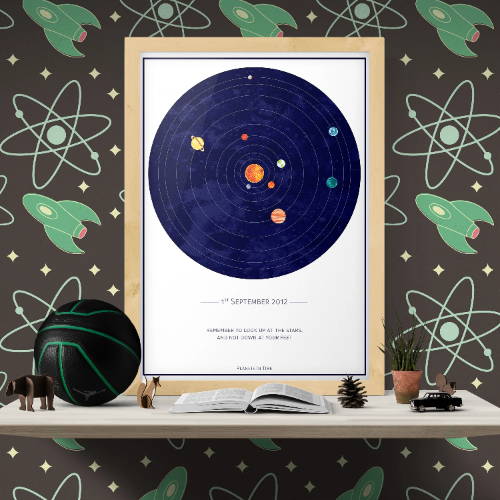 For the final flourish in your space-themed nursery, our custom solar system prints add a personal touch to any room. You simply choose a date in the past or future, and we'll create a copy of our print with the planets plotted as they were, or will be, on that very date. Add your own custom text, and create a poster that's truly one of a kind. Perfect for commemorating the birth of your child, it's one piece of nursery decor that they'll treasure for years to come.